If you've been smoking for awhile now, you've probably noticed that the price of cigarettes has gone up drastically over the last several years. We've done our best to keep our prices rock-bottom, however, and we're quite proud of being able to offer some of the cheapest cigarettes in Arlington, VA. We carry all sorts of cigarettes, from well-known brands to more niche, tougher-to-find offerings, and we strive to keep our prices the lowest around. When you're in the market for cheap cigarettes, some of the cigarette brands we carry that you might want to pay special attention to are:
Cheap Cigarette Brands
Camel
Camel cigarettes contain a blend of Turkish and Virginia tobaccos which create a pleasant flavor. The brand can be identified by the camel on the front and features different types of cigarettes including, Camel, Wides, Blue (lights), Crush (menthol), Bold, No. 9 and Red in the United States. Internationally, some of the product lines include Big Orange 100's, Black, Super Lights and Natural. Compared to other similar cigarette brands, Camel uses oriental tobacco which provides a much more distinctive yet fragrant smell when burned. Camels are extremely popular, and also have the added benefit of being on the cheaper end of the cigarette price spectrum.
Lucky Strike
Lucky Strike cigarettes are produced by British American Tobacco, Japan Tobacco and R.J. Reynolds Tobacco Company in the United States. Lucky Strike cigarettes use burley tobacco which is air-dried for around two months. This creates a unique and flavorful taste that is unmatched by most other brands. Lucky Strike varieties include, Classic Red, Light, Natural Red, Natural Blue, Non-Filter, 100s, Menthol, Lights, Freshmint, Ultra and Charcoal Filter.
Newport
Newport cigarettes is a menthol brand owned by R.J. Reynolds Tobacco Company. Newport is the second best-selling cigarette brand in the United States behind Marlboro. Among the menthol flavors include, 100s, Full Flavor, Smooth Select, Blue Medium and Gold Lights. The success of the menthol varieties has extended its product line beyond to non-menthol versions which include, Regular, 100s and Gold 100s.
American Spirit
First introduced in 1982 by the Reynolds American company, American Spirit is delivers high-quality "natural" tobacco products that are manufactured in the United States. The company offers several types of color-coded filter cigarettes and has a Perique Blend Filter type which features 10-percent Perique tobacco with organic filters that range from ultra-light to regular. Other flavors include, menthols, black, blue and brown. American Spirits aren't the cheapest cigarettes around, but if you smoke them you'll be interested to know that our American Spirit prices are probably the best that you'll find!
Rolling Your Own Cigarettes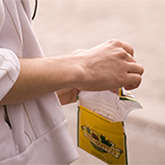 If budget is truly your bottom line, you should be aware that the least expensive option for cigarettes is to roll your own. If you're used to buying packs, you'll be surprised at how much money you can save by rolling your own cigarettes. This can be accomplished using a cigarette rolling machine, rolling papers or cigarette tubes, filters, and tobacco. By purchasing these components from Burn & Brew, you can save a significant amount of money over the long term. And whatever type of tobacco you already enjoy smoking, chances are we've also got it loose.
Although the cost of cigarettes has risen in the past several years, there are still many options for cheap cigarettes in Arlington, VA with the best option being rolling your own. Although it may take more time, it will pay off in the long run. However, the choice comes down to personal preference, menthol versus non-menthol, regular versus ultra-light and every variety in-between.