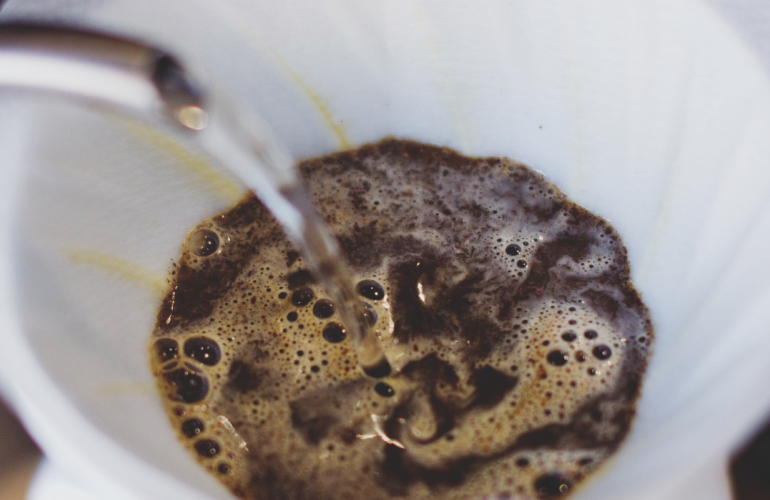 Coffee is one of the most popular beverages in the world. Most people begin their day with a cup of freshly brewed coffee, so it is no surprise that people are always searching for a better method to get that perfect cup of coffee. Pour over coffee is an emerging way to brew coffee and has gained popularity in the Arlington, VA area.
What Is Pour Over Coffee?
The term pour-over is exactly what it sounds like. Boiling hot water is poured slowly over freshly ground coffee beans. The pour-over process can either be a slow pour to create a strong bold flavor or a faster pour to make for a less intense coffee experience. Unlike standard coffee makers, a pour-over system involves the addition of a continuous stream of fresh, hot water rather than several streams sprayed sporadically on the surface of the coffee. This Japanese inspired technique allows for control of the strength and flavor of your coffee so anyone can get a cup of coffee that is suited to their personal taste. This method is so effective and delicious that coffee houses and cafes everywhere are beginning to offer pour-over coffee for their customer's enjoyment.
Methods For Making Pour Over
There are a few pour-over methods. You can use your favorite blend and grind the beans to get the flavor you want. There are several pour-over machines on the market and your abilities to control the process will be determined by your budget. A very simple method is to simply pour boiling water over a coffee filter loaded with ground beans. Note that this process can be dangerous if not managed properly and we recommend trying it before committing. Stop by Burn & Brew to taste our premier pour-over coffee and see if it's the right match for you! Whatever route you take when it comes to coffee, come try how much better pour-over coffee is.

Does It Taste Different?
Simply put, yes! It tastes smooth and can be either light and airy, or dark and bold. It always tastes fresh and delicious. If you are trying to avoid the watered down flavor of average coffee makers, then pour-over is perfect for you. It packs a punch of fresh, aromatic coffee delight. Because the brewing process is controlled down to every second in the process, it's incredibly easy to get a perfectly  If you don't believe it, put it to the test. Stop by and check out our giant selection cigars and cigarettes to enhance your coffee drinking experience.  You have nothing to lose except that boring old cup of coffee that is missing the deep rich flavor that pour-over provides.
Why You Should Try It
If you are a fan of a great tasting, smooth cup of coffee, then you owe it to yourself to give a pour-over coffee a try. Chances are, you will wonder why you didn't try it sooner. The pour-over method allows you to control the flavor and strength so you get just the right balance in every cup. No more so-so coffee. When you drink pour over style coffee, you won't want to go back to your boring old coffee maker again.
Pour over coffee is well worth the time and effort it takes to create it. Whether you order it from your favorite cafe or even your favorite smoke shop, this method promises to not disappoint. It will welcome you to a great new day each time you wake up and offers that little pick me up when your feeling run down in the afternoon. Consider it a little treat to yourself each time you enjoy a cup of coffee perfection.
Finding Pour Over Coffee in Arlington
Pour over coffee can be hard to find in Arlington because of how new it is! Most big chain coffee shops will be serving it but often times their methods for preparing a pour over coffee aren't true to an ideal process for creating the perfect blend of boldness and richness. Hand pours will always be the best way to brew pour over and that's how we do it here at Burn & Brew. Be sure to stop by anytime we are open to trying our perfect blends of pour-over coffee or nitro brew coffee!